4 Easy Steps For Improving Your Funnels Search Engine Rankings
4 Easy Steps For Improving Your Funnels Search Engine Rankings
There's no doubt about it, internet marketing today, can be a complex and scary situation. With all of the endless opportunities to advertise your online business, marketing is constantly changing with trends and algorithm updates.
The thing that you don't need when you're evaluating or creating your internet marketing strategy is lengthy explanations about how different techniques that work.
Instead, try to seek out consultants and experts who can guide you with simple explanations and easy methods based on real results.
That's exactly what this article is about.
Here is a simple list of four suggestions that online business owners can use in creating or evaluating their internet marketing strategy.
1. Establish Your Internet Marketing Strategy Goal
Many consultants will tell you to set goals about what you want to achieve with your website. Forget it. I hate to sound negative, but that's bullshit.
Those are distractions from the real question you need to ask yourself, which is:
"What is THE purpose of my website?"
Once you answer that question, all other aspects of an internet marketing strategy can be leveraged to help you achieve that purpose.
Typically, people use their website for many different purposes.
Regardless, you still need to answer this question. "What is the purpose of having a website?" The focus you get from this will help you create a better effective strategy.
Here are the top three most common answers to the question "What is THE purpose of my website?"
To sell things
To generate leads for my sales team
To educate my target audience
It can be this simple!
What you need to do is just decide which of the 3 answers above that best suits you (or create your own) and then move on to step 2.
2. Establish an Internet Marketing Strategy
There's a reason why internet marketing is so hot. It works.
It can consistently generate lots of leads, sales, etc. at a lower cost-per-lead or cost-per-sale than your traditional instruments like TV or direct mail advertising including newspapers.
It makes sense when you think about it: when people want to find something online, they go to Google, YouTube, Bing, etc. and search for it.
Internet marketing is all about giving the people what they want when the people are searching for what you sell, offer, or have on your website.
There is always a growing amount of knowledge (books, articles, etc.) on how to do this. And like any other career, it becomes over analyzed and too complex.
To make matters more complicated, some internet marketing strategies are ethical and legitimate, while some are not. The best approach is to create an internet marketing plan that focuses on two aspects:
Search engine optimization (SEO) – showing up organically in the search engine results pages (SERPs)
Pay-per-click advertising – showing up in the "paid" area over the internet including social media platforms
For SEO, first, realize there is no "silver bullet" with this strategy. In today's market, there just isn't a way to easily get ranked consistently high on the SERPs.
It is a combination of several different ranking factors that always play a part in one underlying truth. Make sure you build your website according to practical standards, with a focus on accessibility for everyone.
Just like SEO, there is no "silver bullet" for pay-per-click advertising, either.
Instead, the recipe for paid ads success is in well-placed bids (what you will pay to have your ad show up) combined with meaningful landing pages that you monitor for success.
3. Conduct Search Engine Optimization (SEO)
The goal for SEO is to optimize the correct and best adjustments to your website to get higher organic rankings on the results page.
Now I'm not going to deny it, search engine optimization is a confusing sum bitch.
On one hand, there are the "snake oil salesmen" ready to get you a #1 ranking with their latest trick.
On the other hand, there are some beautiful things that actually do work and are very simple, and quite frankly "sexy as hell".
In all honesty, the best SEO strategy to take is a common-sense approach with SEO: develop and practice the basic standards for your website that ALL pages must adhere to.
Use the right keywords, and once you do this, and enforce it, you can then branch out to some of the other "niche" aspects of SEO.
Here are a few extra tips of SEO standards to use on your website:
Write emotional descriptive or try to use numbers in your titles tags that can really describe what the page is all about (keywords used in the title section is a big factor)
Write a summary using the keyword towards the top of the page that helps describes what page is all about
Write page content that is focused on that specific topic using keywords that are in relation (another name for this is LSI keywords)
Use long-tail keywords ALT text for all images that describes the concept of the images used on the page (try to be descriptive)
Build all of your pages up to comply with current web standards (In other words, the majority of users coming to your website will be from mobile devices or tablets so make sure it is responsive)
Now when your web pages start to comply with the search engine standards, you can start to use more advanced SEO techniques, including keyword targeting, 301 redirects, link building (getting more links to your site), RSS news feeds, guest post, etc.
4. Leveraging Paid Advertisement Online
Pay-per-click (PPC) advertising helps you get more traffic from search engines through advertising on the SERPs much faster.
You pick terms that people search on. You bid a price per click on your ad that you are willing to pay. Your ad shows up when someone searches for that term, and, if you're lucky, users will click on your ad and come to your landing page.
So for me, pay-per-click advertising really boils down to 3 components:
Picking the right keywords to advertise for better traffic
Determining what to bid for those target keywords
Selling content in the ads that show up when people search (emotion)
Picking keywords is all about knowing what terms your customers, clients, etc. would use when searching for your product or service.
There are several tools to help you generate ideas. The best tools also check to see how many searches-per-month your target keywords receive.
Typically, you want to find keywords that generate a decent volume of searches every month but are focused enough for your business.
For example, a company that sells Patek Philippe luxury watches probably would be best served to bid on "Patek Philippe watches for sale" versus "Patek Philippe watches" which could include searches for the luxurious collection, Patek Philippe.
Determining what to bid for your keywords can be a highly-scientific process, sometimes managed by complex software and several key metrics.
To keep it simple, let a tool like Google Adwords Traffic Estimator recommend to you what to bid at first. Start there, and start small. Your best bet is to lock-in a low daily budget limit until you are comfortable with the impressions your ads are receiving.
The flow of traffic from the ads to your landing page and what those people do once they get to your landing page will determine your cost per conversion.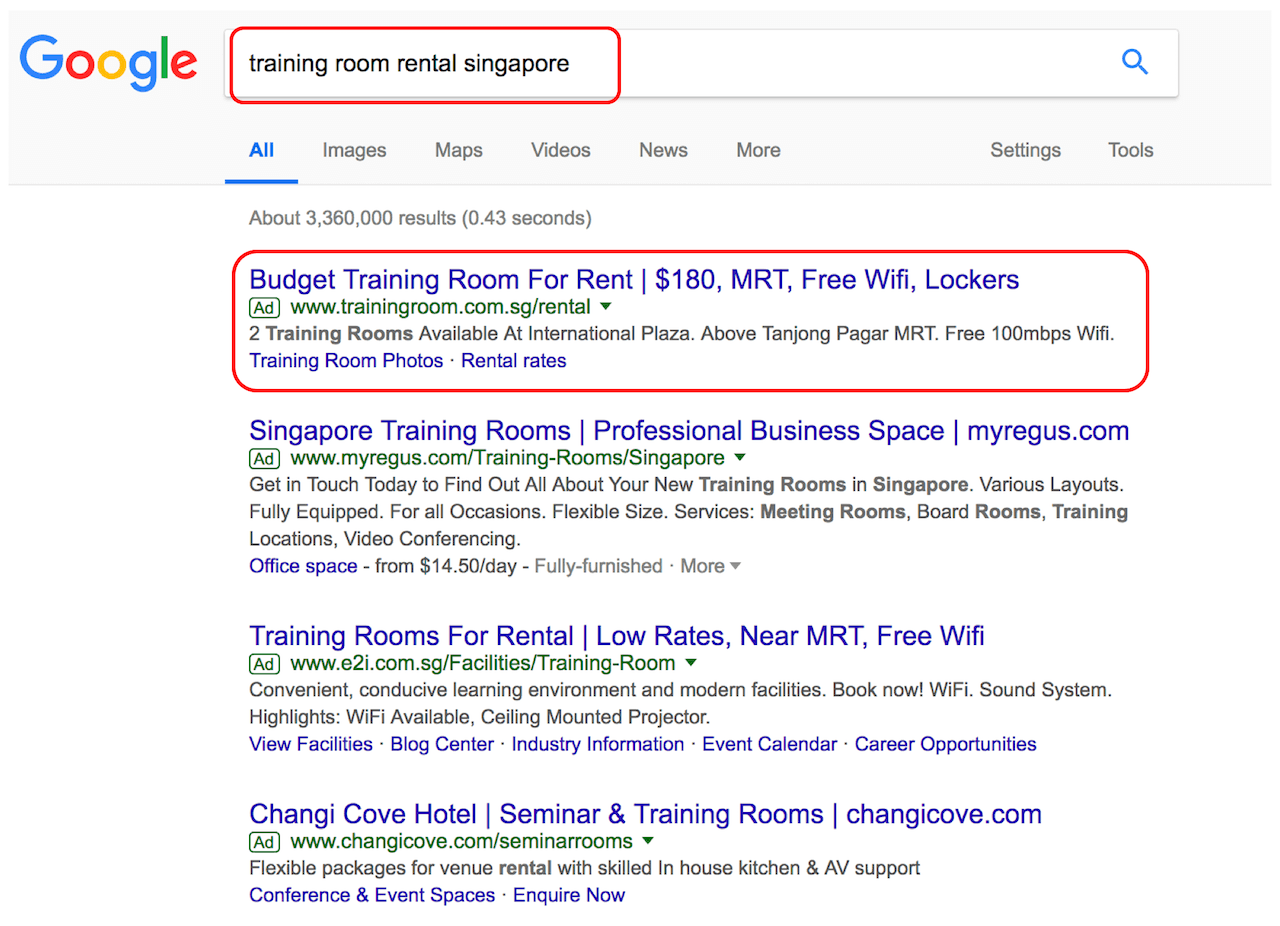 Writing ad content comes down to writing a headline that people will click on, and creating compelling content below that headline that will get people to click.
Headlines are best created by following what magazine covers do: focus on getting attention through eye-catching, short phrases. Using user intent words like best (i.e. "Best Tips for a Summer Barbeque"), ultimate (i.e. "Ultimate National Park Vacations") and number-based lists (i.e. "Top 5 Luxurious Cars for 2019") have all been proven to work.
Writing effective content below the title is really about reinforcing the term(s) search for. This means using the keywords in the content for the ads and using the title with user intent words.
Conclusion
If you approach any of the 4 steps above, you'll be able to create or evaluate a better internet marketing strategy for conversions. Focus on what matters most when executing your plans, get kick-ass results and gain more effective achievements on your business goals.
Search engine rankings can become an important factor to consider when you have a website that needs more traffic. If your funnel doesn't have a good position on the search engine results page (SERPs) then it will be hard to find.
Since most user clicks go to the first few results, you need to make sure that your funnel is ranked high enough so that people can easily find it on the first page of the search engine results page.
Although no digital marketing agency should guarantee a high rankings for your website permanently, and often times hiring a web marketing company will overpay their services over time.
For those of you doing it yourself or those of you that want to ensure your marketing company is doing a good job, here are 4 tips for raising the search engine rankings of your funnels.
Content is an important factor in high search engine rankings. In order for you to get more attention, make sure that you post plenty of content throughout your Clickfunnels page with your target keywords on the page. It's also worth doing a search for funnels similar to yours and taking a look at their landing pages for ideas
Keywords are also an important factor and they should be used throughout the content of your page.
Your landing page's URL can help you rank higher with the search engines if it contains your keywords. Having your keywords in the URL is one of the strongest ranking factors that Google has admitted to being important.
However, don't think that naming your site after your keywords will always help your rankings – you need to do more than just that.
Remember, it is one of the most important factors in improving a funnel search engine ranking.
I've ranked all types website on the first page of Google in less than 3 months without spending a dollar!
You call "bullshit" ? - Find out today & you can learn how the pros do.
Search terms should be written out in text, instead of graphics.
If you use pictures, be sure to give them alt tags. If you want a good rank in search engines then these things that may seem small should be considered, as search engines can read the content but not the graphics.
The title of your page is very important, and if you choose the title properly then it can surely make a big difference in search engine ranking. Terms such 'free protein sample by mail', or 'get the best protein supplement free today' are good to use as titles on funnel pages containing the same content.
The titles themselves are very specific to the funnel page and also may not have much competition being as specific as they are. The title tag is another very important place to include your keyword phrases, so make sure that you utilize it.
Master these four tips and you'll be on your way to getting free funnel traffic. Look for other tips to keep your Clickfunnels moving up.
10x Your Traffic From Google To Your Funnel
Get my free PDF on how to start building traffic in 30 days